Sweden joins new initiative promoting international climate cooperation
To speed up the implementation of Article 6 of the Paris Agreement, a new initiative was launched by Japan today at UN Climate Change Conference COP27. State Secretary to the Minister for Climate and the Environment in Sweden, Mr. Daniel Westlén, attended the launching ceremony in Sharm el-Sheikh.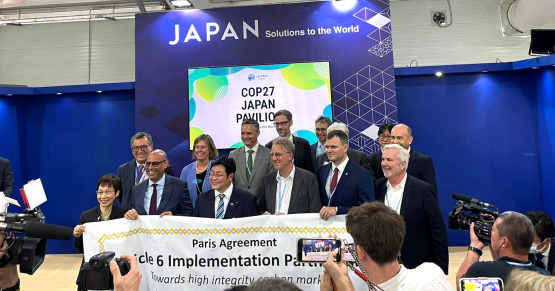 The launch of the partnership took place at COP27 in Sharm el-Sheikh.
Commissioned by the Government of Sweden, the Swedish Energy Agency engages in Article 6 of the Paris Agreement to support transformative climate cooperation and the establishment of well-functioning carbon markets. As part of this work, we participate in international initiatives promoting capacity-building and exchange of experiences with international stakeholders.
Accelerating climate cooperation between countries through international coordination
Article 6 and carbon markets have important roles to play in mobilising additional finance to climate mitigation activities and advance efforts towards the sustainable development goals. In light of the growing number of capacity-building efforts on Article 6 being carried out simultaneously by multiple actors in different countries, the Article 6 Implementation Partnership seeks to avoid duplication of efforts and contribute to efficient implementation through international coordination. Together with 37 other countries and 19 international organisations, UNDP and GGGI (Global Green Growth Institute) among others, Sweden is part of the new initiative. The Swedish Energy Agency will represent Sweden in the partnership.
Other capacity-building efforts supported by the Swedish Energy Agency
Through the Swedish Energy Agency, Sweden supports several capacity-building programs related to Article 6, including the World Bank's Partnership for Market Implementation and the Asian Development Bank's Article 6 Support Facility. In addition, the Swedish Energy Agency supports capacity-building efforts in targeted countries such as Côte d'Ivoire, Laos and Nepal through the GGGI-program Mobilising Article 6 Trading Structures. Capacity-building efforts related to Article 6 are mainly about supporting:
the development of national plans and frameworks for carbon markets,
systems for MRV (Measurement, Reporting, and Verification),
private sector participation in climate cooperations.