Article 6 of the Paris Agreement
Last updated:
Article 6 of the Paris Agreement sets out three approaches to support countries in delivering their national targets as outlined in their NDCs and to allow for higher ambition. It includes voluntary cooperation among countries to transfer mitigation outcomes, a new market mechanism to contribute to the mitigation of GHG emissions and support sustainable development, and a framework for non-market approaches.
Just as the Clean Development Mechanism (CDM) and Joint Implementation (JI) allowed for cooperation between countries and international trade in emission reductions under the Kyoto Protocol, Article 6 does the same under the Paris Agreement.
An important difference between the Paris Agreement and the Kyoto Protocol is that, under the Paris Agreement, developing countries must also set emission reduction targets and report regularly on their mitigation and adaptation efforts.
The reporting requirements also imply that countries who wish to transfer emission reductions internationally – so called Internationally Transferred Mitigation Outcomes (ITMO) - must report on and adjust for these. Such adjustment is called corresponding adjustment and is crucial to prevent double counting of emission reductions between countries. Without corresponding adjustments, double counting results in higher emission levels since emission reductions that should take place in the future are registered as already performed.
Article 6 consists of three forms of cooperation: 6.2, 6.4 and 6.8
Article 6.2 states that countries can cooperate and transfer mitigation outcomes between each other to achieve the objectives of their climate plans (so-called Nationally Determined Contributions, NDCs).
Article 6.4 outlines the framework of a market mechanism for global trade with emission outcomes. An official reviewing body shall monitor the market mechanism and have the mandate to review and approve emission outcomes which can be transferred and used in emissions trading.
Article 6.8 deals with non-market collaborations. A work programme is under negotiation by Parties to the Paris Agreement. The revision of the process will be conducted by an institution instituted under the UNFCCC.
At present, guidance and rules for the different approaches under Article 6 are still under negotiation.
What is the purpose of Article 6?
Under the Paris Agreement, ratifying countries have committed to reduce their greenhouse gas emissions. All countries must express the highest possible ambition in their respective NDCs. However, there are great differences between countries when it comes to the conditions for reducing emissions.
An Article 6 collaboration is an opportunity to reduce emissions in a cost-effective way, since mitigation can be performed where costs are lower. Cooperation between two countries should be based on voluntary participation and should contribute to globally reduced emissions and increased climate ambition. A global increase in climate ambition is necessary to meet the Paris Agreement's goal of keeping global warming well below 2 °C, aiming at 1.5 °C. With the current level of ambition, warming is estimated to reach beyond 3 °C.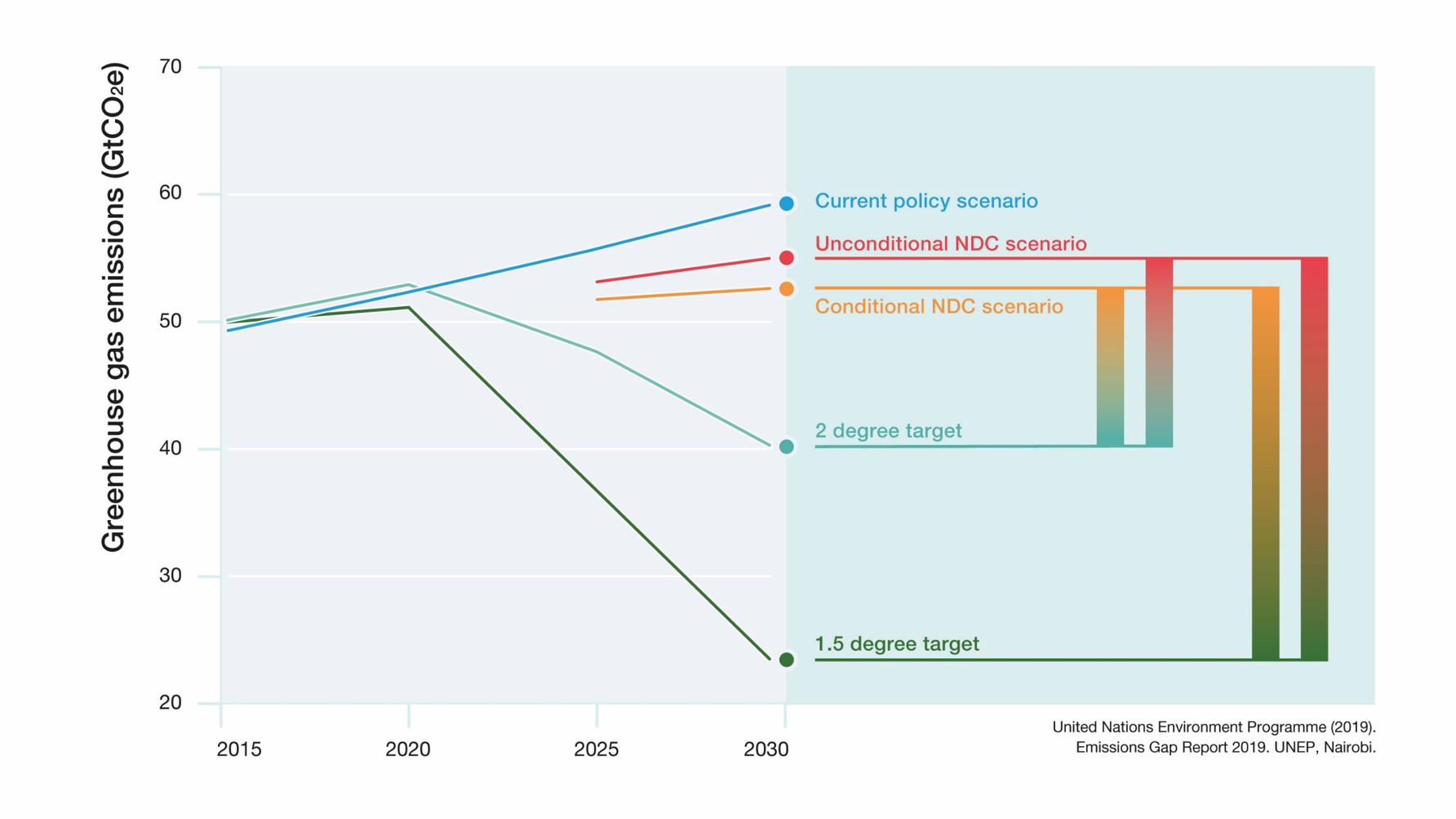 Extensive emission reductions must be met to accomplish the 2-degree or, even better, 1.5-degree target. As the figure shows, countries' current ambition level is insufficient to achieve any of these targets.
In a comprehensive study from the University of Maryland, researchers find that a well-functioning trade in emission reductions under Article 6 of the Paris Agreement could save the world's countries $ 250 billion per year. When costs for reaching national targets are reduced, countries can afford to reduce emissions even further, thus increasing ambition. According to the study, Article 6 could bring about further emission reductions of around five billion tonnes of carbon dioxide per year on a global scale. That equals one hundred times more carbon dioxide than what Sweden emits annually.
---