Ferroamp Elektronik – winner of the Intelligent Energy Management competition
Last updated:
The Intelligent Energy Management competition provided Ferroamp Elektronik with the opportunity to evaluate its solar energy storage hardware.
Ferroamp Elektronik was hard at work developing technology for storing solar energy when the Intelligent Energy Management competition was announced in 2016. the company therefore decided to apply with an self-manufactured hardware system, EnergyHub, which is monitored using a cloud service and controls the building's photovoltaics, batteries, electric vehicle charging and more, switching between external and internal electricity grids. Users can also monitor the system's functionality and their own consumption patterns. This results in more efficient energy management, reduced energy waste and easier installation and maintenance for users. As one of the winners in the competition, the technology progressed to the test phase.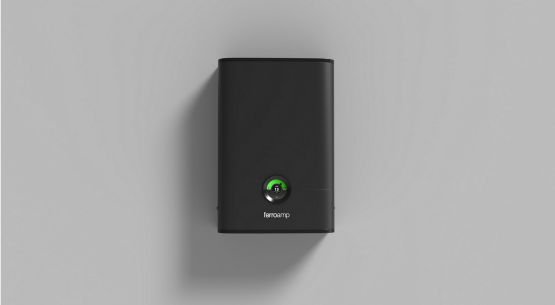 Ferroamp Elektroniks EnergyHub
"What a fantastic country we live in, where the Swedish Energy Agency makes this type of public evaluation possible. This offers us as developers and innovators the opportunity to gain attention and show what we can do," says Mats Karlström, vice-president sales and marketing at Ferroamp Elektronik.
The needs owners involved in testing EnergyHub were Uppsala's municipal property company Ihus, at Vaksala-Eke and Salagatan, and testbed Living Lab hosted by Örebrobostäder. The aim was to increase the use of in-house produced electricity by installing an energy system including modular energy storage. The test was based on a small DC network integrated into the building. The system's power module converts the DC energy from the solar panels and energy storage into AC energy that can be used in the building or sold to the electric grid company. Ferroamp also uses a proprietary phase equalisation system, lithium-ion battery storage and a solar string optimiser to control and maximise solar panel efficiency.
"Solar electricity is always good as it utilises a renewable, sustainable resource. It is also interesting to property owners in that they can also consume the energy they produce. There are however many regulations that mean certain property owners are unwilling to invest at this point, given the level of uncertainty," says Mats Karlström.
During the evaluation period, work has begun on developing a new platform called Yocto that will allow direct connection of components to a secure server where remote updates, troubleshooting and log inspections can be more easily performed.
Ferroamp Elektronik currently delivers complete systems for both small and large buildings. The company has also been the subject of enormous global interest and recently won two prestigious prizes for the business and change potential of its technical solutions.
"We strive to ensure that buildings get the maximum possible return on their investment but also to support the electricity grid and eventually replace nuclear energy. Reduced network fees give an estimated payback period for our products of between one and six years. Solar cell installations have a payback period of between 8 and 14 years while batteries can pay for themselves from day one. Managing electric vehicle charging is the greatest challenge but, if your smart, it can be done successfully," says Mats Karlström.
Ferroamp Elektronik
Ferroamp Elektronik was founded in 2010 by Björn Jernström, based on the company's patented EnergyHub innovation for storing renewable energy. The company currently has around 20 employees with experience in the fields of electronics, software and solar cells. The head office and production are based in Stockholm suburb Spånga.
---