Bzzt podtaxi reduces carbon dioxide emissions with new mobility solution
The Swedish Energy Agency has granted Bzzt AB SEK 7.5 million for the development of the company's operation, technology and software. The project aims to further develop the company's mobility system and make it ready for profitable, international expansion.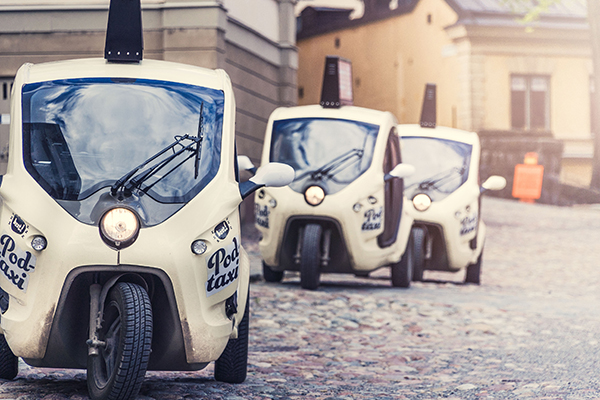 In international metropolitan areas, lots of short trips are made annually that are under five kilometers. Only in Stockholm about 350 million such trips are made each year and just over 60 million of these are done by car or taxi, according to Bzzt AB.
– This is a quality stamp. Now we have received an acknowledgment that what we do creates value for the environment, individuals and society. We want to help people travel eco-friendly in big cities, all over the world. Thanks to the support from the Swedish Energy Agency, we can increase the pace and make it faster. It is incredibly valuable, says Jessica Vacklid, Operations director at Bzzt AB.
Bzzt develops a mobility system consisting of small electric taxi pods (three-wheeled taxis), a smart app for ordering and an underlying system that digitally optimizes the fleet's operational efficiency. A journey with the company's taxi pod is completely emission-free and uses only 15 percent of the energy compared to a journey in a modern diesel taxi.
– This solution has great business potential, it can achieve good profitability in Sweden and is globally scalable. Thus, the company's innovation is well placed to contribute to the restructuring of the global energy system, says Jonas Lindblom, business developer at the Swedish Energy Agency.
Bzzt's goal is that every fully active taxi pod, which is in operation during the company's opening hours, should be able to save an average annual consumption of electricity of a house - 20,000 kWh. The expansion goal is set that by 2023, the mobility system will be available in 20 major cities internationally.
– I also want to mention in particular, the company's work on highlighting women in a male-dominated transport industry, among other things by having internal goals for how many of the drivers are women, says Jonas Lindblom.
International expansion
Bzzt is also one of five companies that are chosen to participate in the Swedish Energy Agency's Cleantech Hub New York.
The purpose of the Cleantech hubs is to support Swedish companies and their energy innovations to establish themselves on international markets. The Cleantech hub in New York is part of a long-term collaboration with the Swedish-American Chamber of Commerce in New York.
About Bzzt
Bzzt runs small, electric taxi pods in the city that are booked with an app. The pods are completely emission-free and it is really cheap – you pay by the metre, with no advance and start-up fees. The drivers have collective agreements, fair wages and nice conditions. Completely emission-free - a fairly unique combination in the taxi industry.