Sweden showcases sustainable construction at the World Expo 2020 in Dubai
Smart City Sweden will host an event on sustainable construction for the cities of the future on November 2-3 at Expo 2020 in Dubai. It is possible to participate both physically and digitally. Welcome to the Swedish Pavilion!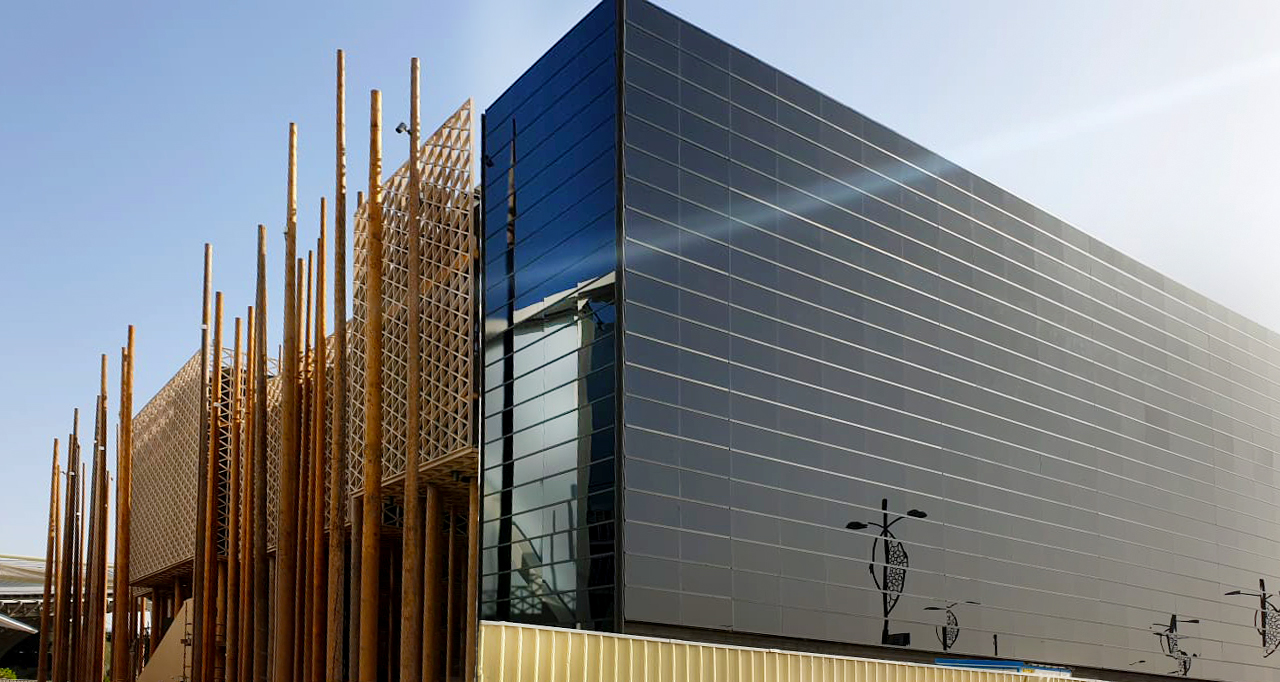 Photo: Solar facade Swedish pavilion Expo 2020 Dubai, Soltech
For two days, Smart City Sweden's event will focus on the climate benefits of building sustainably. In addition, participants will learn more about the challenges of building with wood, for example about safety.

The event is aimed at decision makers, companies or organizations interested in sustainable construction regarding circularity, smart housing and the environment in the city when building in wood. The event is broadcast live from Dubai so it is possible to participate both physically and digitally.

Several interesting examples of sustainable construction will be presented, for example White Architects will tell you about Sara Cultural centre in Skellefteå, which today is the world's tallest building in wood.

– Since 40-50 percent of the world's carbon footprint is linked to construction and buildings, there is a great need for radical change in this sector. Building in wood is sustainable if you replant forests at the same time, because the forest acts as a carbon sink. This can be compared to concrete and steel, which each cause more carbon dioxide emissions than, for example, the world's aviation, says Staffan Schartner, Head of Construction, Swedish pavilion Expo 2020 Dubai.

In the Swedish pavilion, three Swedish companies show their innovations
The companies Soltech, Nilar and Ferroamp together show how to integrate solutions into buildings in an aesthetic way. Solar facades and solar roofs from Soltech show the path of solar energy from solar panel to storage and energy optimization.
Ferroamp's EnergyHub system helps control and optimize the energy from the solar panels and the pavilion's consumption will be reduced using an energy storage installation with advanced Nilar Hydrid batteries.
All three companies have previously received support from the Swedish Energy Agency to be able to develop their innovations and introduce them to the markets.
About Smart City Sweden
Smart City Sweden is a state-funded initiative coordinated by the Swedish Energy Agency. The export and investment platform is managed by IVL Swedish Environmental Research Institute, in close collaboration with regional business promoting organisations, as well as private companies. Smart City Sweden includes a group of eight governmental agencies, providing expertise and knowledge of best practices within their fields.


Dubai World Exhibition - Expo 2020
The Swedish pavilion at Expo 2020 is the Swedish government's single largest effort for export and investment promotion and the participation is jointly funded by the state and industry.
On October 1, 2021, the gates were opened for the World Expo 2020 in Dubai, which will run until March 31, 2022. About 190 countries participate under the theme "Connecting Minds – Creating the Future". The exhibition has three areas: opportunity, mobility and sustainability. Sweden's pavilion, which is built entirely of wood, belongs to the area of sustainability.

The Swedish Energy Agency will participate on several occasions during the exhibition period.