Energy labelling
Do you intend to buy a new fridge, cooker or washing machine? If so, energy labelling will assist you in choosing. It is specified by law that all white goods sold in the stores must be energy labelled.
Most domestic appliances sold today have energy rating A. You can save SEK 400 a year by changing your old fridge and freezer for new energy-efficient units.
Much more than energy
The energy efficiency of a model is shown on a scale from A to G, where A is best, and with arrows that go from green to red.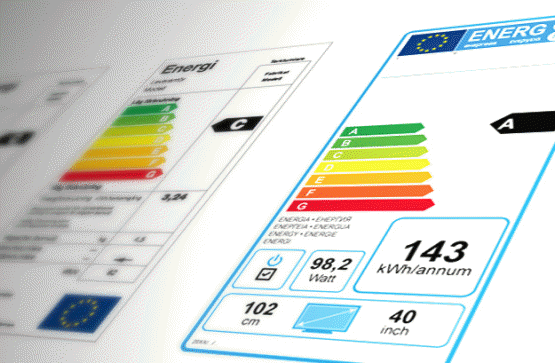 There are also energy ratings A+ and A++ for fridges and freezers, where A++ consumes the least energy.
Other important properties such as noise and volume, or how well the machine washes, dries or washes the dishes is also shown on the Energy Labelling Label.
Mandatory
As consumer, you have the right to known the energy consumption before you purchase. The head of the stores should ensure that all appliances are marked, and the manufacturer is responsible for the information being correct.
This marking is used in all EU countries. The Swedish Energy Agency monitors that the rules are followed.
Domestic appliances that must be marked:
In addition, lamps and air conditioning units, including certain heat pumps, are also covered by the energy marking requirements.
A-rated models are most widely sold
Most domestic appliances sold on the Swedish market today have A energy rating. The only exception is tumble dryers, most of the ones sold still being those that are C rated.
If you have a 15-year-old fridge/freezer, its power consumption amounts to SEK 600 a year. A new A++ rated unit will have a consumption of only one third of this value.
Fridges and freezers
Fridges and freezers are switched on around the clock and may use electricity for perhaps 15 years.
The energy rating specifies how much electricity the unit consumes in relation to its volume, and varies depending on whether it is a fridge, larder, freezer cabinet or freezer chest. If you choose between models with different volumes, also compare the annual energy consumption specified on the energy rating label.
Ovens and cookers
The energy rating specifies how much electricity the oven consumes in relation to its volume.
Ovens are classified into three sizes: A large oven has a volume of 65 litres or more and the medium-sized is between 35 and 65 litres.
If you choose between ovens with different volumes, also compare the energy consumption per cooking occasion. A cooking occasion corresponds to the cooking of a roast. There is no information on how well the ovens heat or bake.
Dishwashers
You save energy by washing the dishes in a machine instead of washing them by hand. However, this presupposes that you scrape off the food residues instead of rinsing them off with warm water before placing the dishes in the machine.
Find out the dishwashing programme on which the manufacturer has based the energy rating. This differs with different models.
Washing machines
The energy marking particulars relate to the "cotton 60ºC" programme.
The difference in energy consumption between a machine with energy rating A and one with C is small, but if the A rated machine spin-dries better, you will be saving time and energy in drying as well.
How well the machines wash and spin dry is also shown on a scale from A to G, where A is best. Rinsing is an item of information that is lacking today on the energy marking label.
Tumble dryers
Almost three times as much energy is consumed in drying the clothes as it is in washing them. Choose a washing machine with good spin-drying performance, and it will save you both time and energy. The tumble dryer models available in the best energy class are condensing tumble dryers with heat pump.
Combined washing machines and tumble dryers
A machine with both washing and drying function may be good if you have little space available. Bear in mind that clothes that fill a machine must be dried twice, which means that it takes a long time to have the washing done.
Lamps
Energy labelling also covers lamps, such as compact fluorescent tubes and bulbs. Low-energy lamps have energy rating A or B, whereas bulbs are in the lower categories.
The marking is printed directly on the packaging in colour or in black and white. The marking is international and works in all EU countries.
Air conditioning
Air conditioners that are sold to consumers must be energy labelled. The rules also cover certain heat pumps that can also provide cooling indoors. The annual energy consumption relates to 500 hours of operation.