The Union Registry
According to EU directive 2003/87/EG, each Member State is required to establish and operate a national registry for transactions of allowances in the EU's Emissions Trading System (EU ETS). From June 2012, the EU uses a common IT platform for the national registries of the trading system, the so-called Union Registry.
The Union Registry stores data on:
Accounts for Member States, companies and natural persons who have commitments or hold allowances and international reduction units.
Unit types
All unit transfers to and from the accounts in the registry. There are different types of transfers: issuance of allowances, free allocation, auctioning, transfers between accounts, surrenders and removal of units. The Union Registry also stores data on transfers for the National Registries under the Kyoto Protocol. See Transaction types for more information about different types of transfers. You can also read more about international emissions trading.
Transaction types
International emissions trading
National allocation tables which indicate allowances allocated to installations and aircraft operators.
Verified emissions and surrendered allowances from all installations and aircraft operators covered by the ETS.
Verified emissions and surrender
According to the Registry Regulation, the Commission must ensure that the Union Registry stores data on all processes, records and account holders for five years after the closure of an account. Personal data for users in the registry is anonymised five years after a user has had the access to the registry revoked.
The Union Registry also contains Sweden's National Registry under the Kyoto Protocol, where the national commitment is registered. From 2013 onwards, the Union Registry also contains the registry for emissions reporting according to the Effort Sharing Decision.
The registry only lists completed transfers between two parties. The companies administer their allowances and Kyoto units themselves and, in the case of a sale, it is the seller who transfers allowances from his to the buyer's account. Contracts or prices are never registered in the Union Registry.
National Administrator
The Swedish Energy Agency has been appointed by national law as national administrator, which means that we administer all data and support in the Swedish section of the Union Registry.
The national registries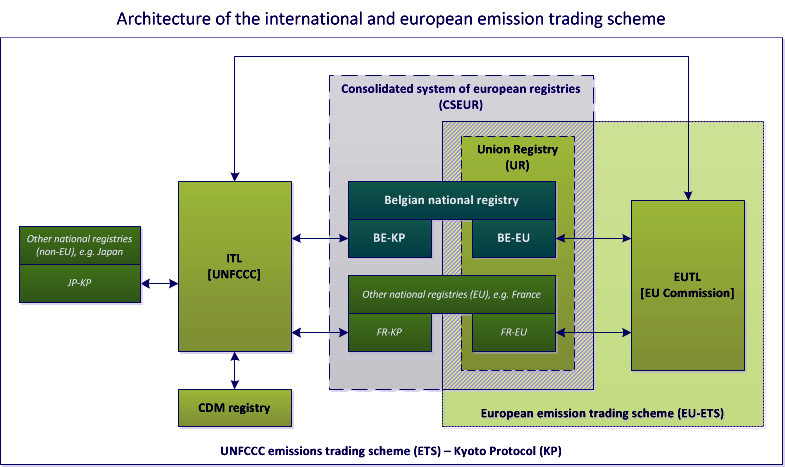 The registries of all Union Member States (as well as Iceland, Liechtenstein and Norway) have been placed in a single technical platform since 2012 to ensure the best possible security, simplification of maintenance and development. And also to ensure optimal operational stability and connections between national registries.
All national registries in the EU ETS are therefore identical in terms of functionality, operation, maintenance and basic safety requirements. The functions are regulated in a separate EU registry regulation.
Monitoring and verification
The Union Registry is monitored by the EUTL (European Union Transaction Log) independent transaction log.
European Union Transaction Log, EUTL
On October 15, 2008, all EU Member States connected their national registries to the UNFCCC International Transaction Log, ITL. Thereby, international credits such as CER and ERU could be transferred to accounts in the EU ETS.
ITL also verifies all transfers of Kyoto units to ensure that double counting does not occur.
Practical information
For more information about opening an account in the Union Registry, please visit our pages on how to apply for an account. Here you also find information about replacing or removing representatives from an account.
Opening accounts and adding representatives
When you open an account in the registry, you provide personal information. Please read more about our handling of personal data.
We provide news and information on emissions trading and describe which other information channels you should monitor to stay up to date.
How to find information about emissions trading
For account holders or account representatives in the Union Registry there are manuals, guides and film clips available to assist you through the various processes in the registry. Read more about what user support is available:
To get a better understanding of which unit types are circulating in the registry and what limitations they have, read more about unit types.
The Union Registry contains accounts of different types with functionality adapted to different account holder types.
A transfer between accounts is controlled by parameters defined by the type of transfer. Different types of transfers are used for transfers between two parties, allocation, deletion and surrender. Read more about them under Transaction types:
Transfers between accounts are controlled by security features in place to protect all holdings in the registry. For example, transfers from certain account types require that recipient accounts always are registered in a Trusted account list. There are also delays on delivery of transfers where the registry only initiates transfers during certain times of the day and during the week. Those who have or intend to open an account in the registry should understand how time delays and hours are working.